Welcome to the official site of
Shirley Rousseau Murphy

(For information about the Joe Grey series, including her forthcoming book Cat Shout for Joy, click on "Joe Grey" in the navigation bar above. And see below for news about the brand-new reissue of her book for young readers, Silver Woven in my Hair.)

Now Available!
The Cat, the Devil, the Last Escape
by Shirley Rousseau Murphy
Coauthored with her husband Pat J. J. Murphy

Shirley Rousseau Murphy, author of the award-winning Joe Grey mystery series--a writer hailed for her "magical whimsy and deft writing" (Cats magazine) who "has raised the stakes of the feline sleuth genre" (Kirkus Reviews)--teams up with her husband to conjure a charming supernatural adventure involving the devil, a thief, a bet, and a spirited phantom cat.

Brad Falon, one of Satan's longtime puppets, orchestrated a deadly robbery and set up his old friend Morgan Blake to take the fall. Now, Morgan has been sentenced to life in prison, and his wife Becky and young daughter Sammie are devastated. Alone and afraid, in need of comfort and a friend, Sammie turns to Misto, the ghost cat.

Behind bars, her father Morgan makes fast friends with an old con named Lee Fontana who knows a few tricks about outwitting evil. They plan a wily escape to bring the real killer to justice and clear Morgan's name for good. All it will take is outsmarting the Devil one more time. . . .

"The second mystery featuring Lee Fontana and the ghost cat Misto is an engrossing story. Darker than a cozy, the plot is intriguing. . . . As the characters get more desperate, they are tested in ways that will ultimately define their true character." --RT Book Reviews



Read Chapter 1

Order now from Amazon, Barnes and Noble, iBooks, or Kobo
Also Available: The Beginning of the Story
The Cat, The Devil, and Lee Fontana
To the devil, the span of human life is as brief as spit on the wind. But the challenge of playing with flawed humans, like a cat toying with a mouse, is endlessly amusing. However, if the devil loses a wager, he will harass a person's descendants until he eventually gets his due. Which is why he is tormenting Lee Fontana.

The night before Lee is paroled, Satan terrifies and tempts the thief with the promise of one more successful robbery. But Lee has a secret ally looking out for him. The prison cat, a ghost, will tail the ex-con on his dangerous mission--an adventure that moves across the country and spins far beyond our present world into the vast realms of afterlife, a story in which ghostly Misto revels in his added ethereal powers and expanded freedom.



See quotes from the reviews
Read Chapter 1

Just re-issued: Silver Woven in My Hair
A Cinderella Retelling
Silver Woven in My Hair is an involved, realistic telling of the cIassic medieval story, into which are woven several other international versions of the tale, as well. This heroine is bold, strong-willed, inventive, and far more in charge of her fate than are her historic counterparts. A review from the Atlanta Constitution: "[Murphy] has fleshed out the characters . . . and breathed freshness and suspense into [an ancient] plot. I found Thursey, the heroine, to be lovable and considerably more spunky than the original. and the step-sisters properly villainous." Another reviewer has called this new version of Cinderella "a rich and amusing romance that will please many teens and adults as well as younger readers."



Buy from Amazon
Buy from Barnes & Noble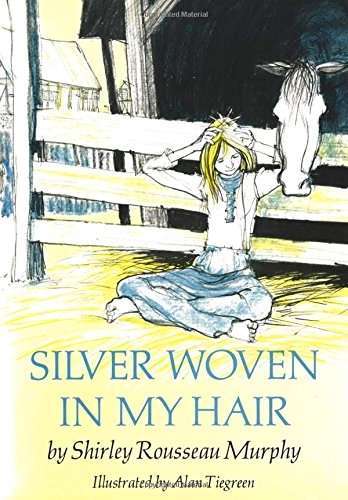 ---



For more about the Joe Grey cat mystery series including the forthcoming book Cat Shout for Joy, visit www.joegrey.com.

In addition to her popular Joe Grey mystery novels for adults, which have received eleven national Cat Writers' Association Awards for the best novel of the year, and her related fantasy novel The Catswold Portal, Shirley Rousseau Murphy has written many children's and young adult books, for which she has received five Council of Authors and Journalists Awards. Two of her children's books were written in collaboration with her husband, Pat. Pat spent his career as a US federal Probation Officer in California and in Oregon, as the Chief US Probation Officer in Panama, and as Chief US Probation Officer for the Northern District of Georgia. After he retired the Murphys returned to their home in California, settling on the Central California coast with a view of the hills and the sea.



---

Shirley Rousseau Murphy is not online personally, but if you send a message through the Contact form or by e-mail to murphy [at] joegrey [dot] com it will be promptly forwarded to her via fax.

For notifications of book releases, see her official Facebook page.